魚介類でおすすめしたいのは甘くて味の濃厚なほっき貝です。
What I would like to recommend for seafood in Nemuro is the surf clam, which tastes sweat and rich.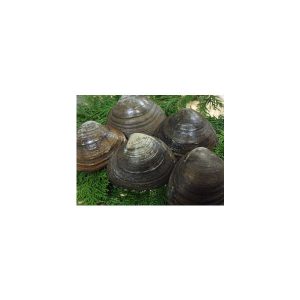 回転すしでも活ほっきは一番高いお皿の色。家庭でもお刺身が定番です。
The plate of a raw surf clam sushi is the most expensive plate at the conveyor belt sushi restaurant. The cut raw surf clam is a standard menu at home in Nemuro.
かきやあさりと違って、殻からはずして身をさばくという一手間が必要で敬遠されがちですが、実はもっと美味しく食べられるメニューが有ります。フライやバター焼き、塩ふり焼きなど…。
Although it needs more time and effort to make preparations for surf clam than oyster shells or short-neck clams since you have to separate the shell's meat from the shell and cut it into smaller pieces, there are some delicious menus which needs fewer steps to prepare. Fried surf clams, sauteed surf clams with butter, and grilled surf clams with salt are those.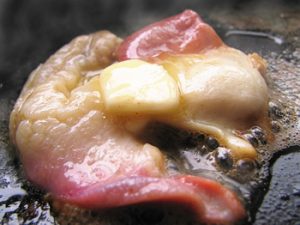 ただみなさんの中には、「ほっきは硬い」というイメージの方が多いのでは…?解決方法は、開いた身を肉叩きで数回叩き、筋を切ること。こうすることで、驚くほど、柔らかくなります。
Some of you may think that "surf clam's meat is tough". The solution is, you hit the cut meat of surf clam with a meat hummer a few times, and chop its muscle. By doing this, your surf clam gets surprisingly soft.
どの料理も大好きですが、細かく刻んだほっきのかきあげは、だしがよく出て、そばやうどんにしたら絶品です。市内の飲食店で「ほっき」を出すところがなくて残念です。
I love any surf clam dishes, but a Kakiage of surf clams, which is a handful sized fried mixture of chopped surf clams and other ingredients with flower, is exquisite (it's also good for a cup of soba noodle or udon noodle since surf clam makes good soup). It's sad that there is no restaurants that offer a Kakiage of surf clams in Nemuro.